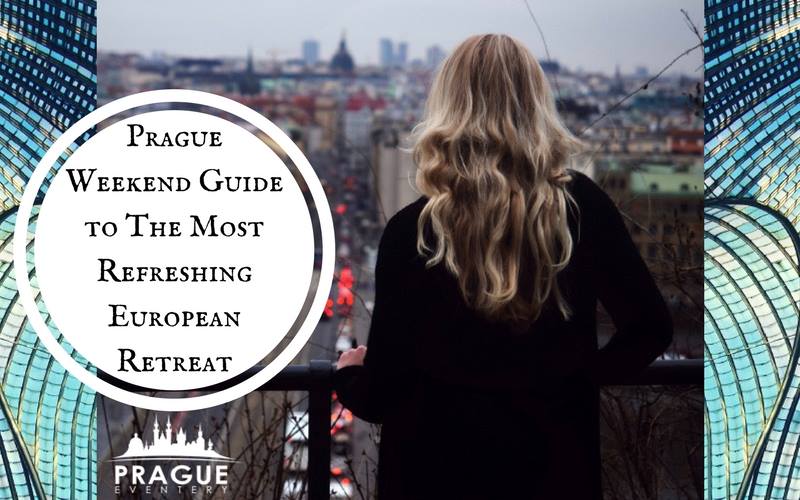 The city of Prague is nicknamed as "the city of a hundred spires" for a reason. It is one of the most beautiful cities, not only in Europe but all over the world. The beauty of Prague is such that even a Google image search feels amazing. We can assure you that once you check out Google images of Prague, you are never going to forget the city. The city of Prague is so beautiful that even Hitler chose to spare it during the World War II. That is definitely something to count on. The beautiful palaces, colorful rooftops, the excellent scenic beauty of the Vltava river, historic castles, churches and bridges, exquisite hotels and restaurants that are luxurious and affordable with the best in class cuisines make Prague one of the most desired tourist spot.
All of these features, make the city an excellent choice for any kind of weekend. Be it a cultural one, a boozy one, a trip with your family, organizing a corporate event for a weekend or just some alone time with you and your camera, Prague is suitable for everything you need. There is so much to see in Prague that you cannot enjoy its beauty by just visiting the city for once. As a destination management company, Prague Eventery strives to make your Prague tour as the most enjoyable and memorable incident of your life. You can spend as much time you want in Prague and the city will never fail to astonish you with its beauty. A lot of people plan to visit Prague for a weekend and if you are planning the same, then this Prague weekend guide will help you get the best of Prague on a weekend break.
Staying for the Weekend in Prague
Once you land in Prague, the first thing you need to search is the best hotels in Prague. And to make your stay comfortable, Prague Eventery can arrange the best in class hotels in Prague. There is a plethora of hotels available in Prague. All you have to do is just inform what kind of weekend you are planning. Being one of the best destination management company Prague Eventery can arrange hotels to cater all your needs. Starting from hotels for corporate events in weekends to getting the most luxurious European retreats for your stay, Prague Eventery can arrange it all.
In our Prague weekend guide, let us share with you the different types of hotels you can check-in. If you are looking to spend a calm and serene weekend, then you can check-in to Alchymist Grand Hotel and Spa and Le Palais Hotel that offers the best in class customer services, with quieter surroundings, an enjoyable garden across the cobbled strolling space and a top-notch spa service. This is one of the best 5-star hotels in Prague. On the other hand, if you are looking for hotels in Prague with a historic ambiance of the real Viennese art, then you should check-in to Art Nouveau Palace Hotel, Imperial Art Deco Hotel, and Augustine Hotel.
For arranging corporate events for weekends, this Prague weekend guide will assist you. You can check-in to hotels like the Grand Mark Prague, Marriott Hotel Prague, and the Corinthia Hotel Prague. Prague weekend guide is incomplete without suggestions for the best family hotels. If you are planning to visit Prague this weekend with your family, then the Four Seasons Hotel in Prague is the right one for you. On the other hand, if your Prague weekend tour incorporates spending some alone time or taking some time off with your group of friends, then the best option is to check-in to Buddha Bar.
Prague Weekend Guide – What to See in Prague?
The plan of Prague weekend guide is incomplete without walking tours. A couple of days in Prague is enough time to check out the highlights of the city. Once you have checked-in to your preferred hotel, a great way to start off your trip is opting for the Prague City Walking Tour arranged by Prague Eventery. The Prague walking tours are differently themed and you can choose the walking tours according to your preference. This is the best way to cherish the beauty of Prague and check out the best tourist spots. An experienced and professional tourist guide will be there along with you throughout the Prague walking tour who will let you know about the historic events, secret streets and alleyways, food tours and evening walking tours.
With Prague walking tours, you get accustomed with the different tourist spots of Prague as you walk through the cobbled streets while checking out the historical landmarks of Prague City. This is going to be your ultimate Prague weekend guide where you will get in-depth details about the best ways you can spend your weekend in Prague. The Prague walking tour will offer you a fascinating experience of Prague. You can opt for a Prague Walking tour according to your preferred time. If you want to experience the heart of Europe in the best way, then a Prague walking tour is the right option. While bringing to you the best Prague weekend guide we suggest that you opt for Prague Eventery. We are the best destination management company in Europe and we have got the top-class professionals to plan your complete Prague weekend tour.
Like we mentioned before, Prague has got a lot to offer when it comes to visiting places. The Old Town Square, the exquisite Astronomical Clock, historical Prague Museum and Prague Castle, Klemenitinum Praha, Astronomical Tower, the iconic Charles Bridge, Tyn Church, Mala Strana, Wenceslas Square, Powder Tower, the Dancing House and more. When you visit the Prague Castle, you cannot miss out the Castle District across the Charles Bridge. With the help of Prague weekend guide, you can walk through the winding streets, check out the charming pubs, cafes and visit St. Vitus Cathedral, Basilica of St. George, Old Royal Palace and the Prague Castle itself.
In this Prague weekend guide, you will be interested to know that The Old Town Square of Prague is the home of the stunning Tyn Church which comes with twin spires towering over the square. You will also get to see the excellent astronomical clock, it's golden face and its intricately detailed design. You might find it tough to see the time, but the beauty of it is just unmatched. According to local legends, the creator of this clock, Master Hanus was blinded so that he cannot make another clock like this.
A Prague Weekend Guide on What to Eat During your Tour
The city of Prague is literally brimming with bars, restaurants, and cafes. Anywhere you stay, you will be close to a Czech bar or restaurant. From morning till night, you will weave through innumerable restaurants in Prague which offers top-notch cuisines and Czech specialty dishes. As a Prague weekend guide, we can say that you will have the chance to visit the internationally renowned eateries where you can dig into traditional Czech cuisine, Czech beers and a lot of other local drinks. If you opt for a local Prague weekend guide, he/she can also help you in finding the hidden hangouts or cafeterias of Prague that a lot of people are not aware of. Eating in Prague itself is a treat on its own. Apart from the traditional and international Czech cuisines, eating in Prague will offer you a much better satisfaction because of its fusion with Middle Eastern Vegetarian, Latino and Asian cuisine. As your Prague weekend guide, let us walk you through some of the best restaurants and what they are famous for.
If you are looking for something exquisite, then the best option for you is to check-in to Nejen Bistro which has a unique style of flaunting its cuisines. Nejen Bistro has a signature dish known as the Black Angus burger. Apart from that, the lavishing food articles incorporate beef-ribs, mouth-watering fancy Josper grill, and steaks. To enjoy the beauty of nature while having lunch or dinner, you can choose the Hanavsky Pavilion restaurant near the Vltava river. The unique feature of Hanavsky Pavilion is it offers a bird's eye view of Prague.
Are you looking for something classy to plan a corporate event dinner or arrange a corporate party? Then you can opt for Bellevue Restaurant and Cotto Crude are your best options. These two restaurants are famous for arranging business lunches and events. The antique furniture and crystal chandeliers give a feel of classic Prague. If you want to get the feel of the historical evidence of Prague, then you need to check-in to Palffy Palac and Mlynec Restaurant. The food offered by these two restaurants are a treat to the taste buds. And the best part is, these restaurants won't put too much pressure on your wallet if you are on a tight budget. You will get a variety of food options to choose, starting from the mouth-watering roasted or fried duck dumplings, beef medallions combined with peppercorn sauce, grilled pork chops with mustard sauce and a huge collection of Czech beers and wine.
As your Prague weekend guide, we also have a few other options for you when it comes to eating in Prague while holidaying. Speaking of the eating in Prague, you cannot miss out the Prague food tours. This is an essential aspect of Prague walking tours. If you are a food lover, this should be on the top of your list of Prague weekend guide. The Prague food tour is an option for the travelers and food lovers who want to experience Prague through its gourmet food. In a Prague food tour, you will be able to check-in to the finest eateries in Prague where you can relax and enjoy your Prague weekend visit.
Activities for a Prague Weekend Trip
We love Prague and this is exactly why the Prague weekend guide professionals of our organization ensure that each and every single tourist can have the best experience during their Prague weekend tour. Apart from the top-class hotels for a comfortable stay, places to visit, and restaurants to please your taste buds, there are a lot of activities you can do in Prague. As your ultimate Prague weekend guide, let us tell you in brief about the activities you can be a part of during your weekend trip.
One of the best activities to take part is the Vltava River Cruise during Prague Walking Tour. This is the best and most romantic sightseeing cruise where you get to see the beauties of Prague while enjoying a nice Czech beer. This is suitable in both ways. If you want to spend the Vltava river cruise with someone special, it can be the best way to spend some quality time. On the other hand, if you are looking to arrange a corporate weekend trip to enhance employee collaboration, this relaxing river cruise along with Czech beers can uplift employee relations.
Visiting the National Gallery and Museum of Art's Exhibition is a very interesting activity. Being your best Prague weekend guide, we cannot miss out these historical places. The National Gallery and Art Exhibitions include the best in class Contemporary, Medieval and European arts.
As your paramount Prague weekend guide, we need to tell you that there a lot of fun activities you can be a part of. You can check out the Fun Train Ride in Prague, go for Truffle Hunting with experienced Prague truffle hunter, visit the Harry Potter themed library, take part in the Prague beer tour that offers unlimited 3-hours of beer tasting, and finally, you can also visit different games and entertainment centers.
Prague is an alluring city that is constantly in fashion at any time of the year. As the optimum Prague weekend guide, we have covered all the aspects of your Prague weekend trip. Whether you are planning a visit to Prague to have a sip of arguably the world's best beer or whether you have a desire to explore the best parts of the city, Prague is definitely a champion city. It is just like a fairytale town which is perfectly fit for the princesses and knights and we can assure you that you will want to visit this Czech capital again and again. If you are planning a weekend trip to the Czech capital, get in touch with Prague Eventery which can undoubtedly provide the best Prague weekend guide by virtue of being a leading destination management company.