This past June my organization and I had the pleasure of working with Prague Eventery when planning a corporate meeting and dinner in Prague. Never having been to Prague my colleagues and I contacted Prague Eventery to help make this event memorable and professional. Michael Ferreira was our contact before we arrived and was available to answer any questions. He worked bard within our budget, with which there was not much wiggle room, to offer absolutely gorgeous venue options for us to select from.
[+]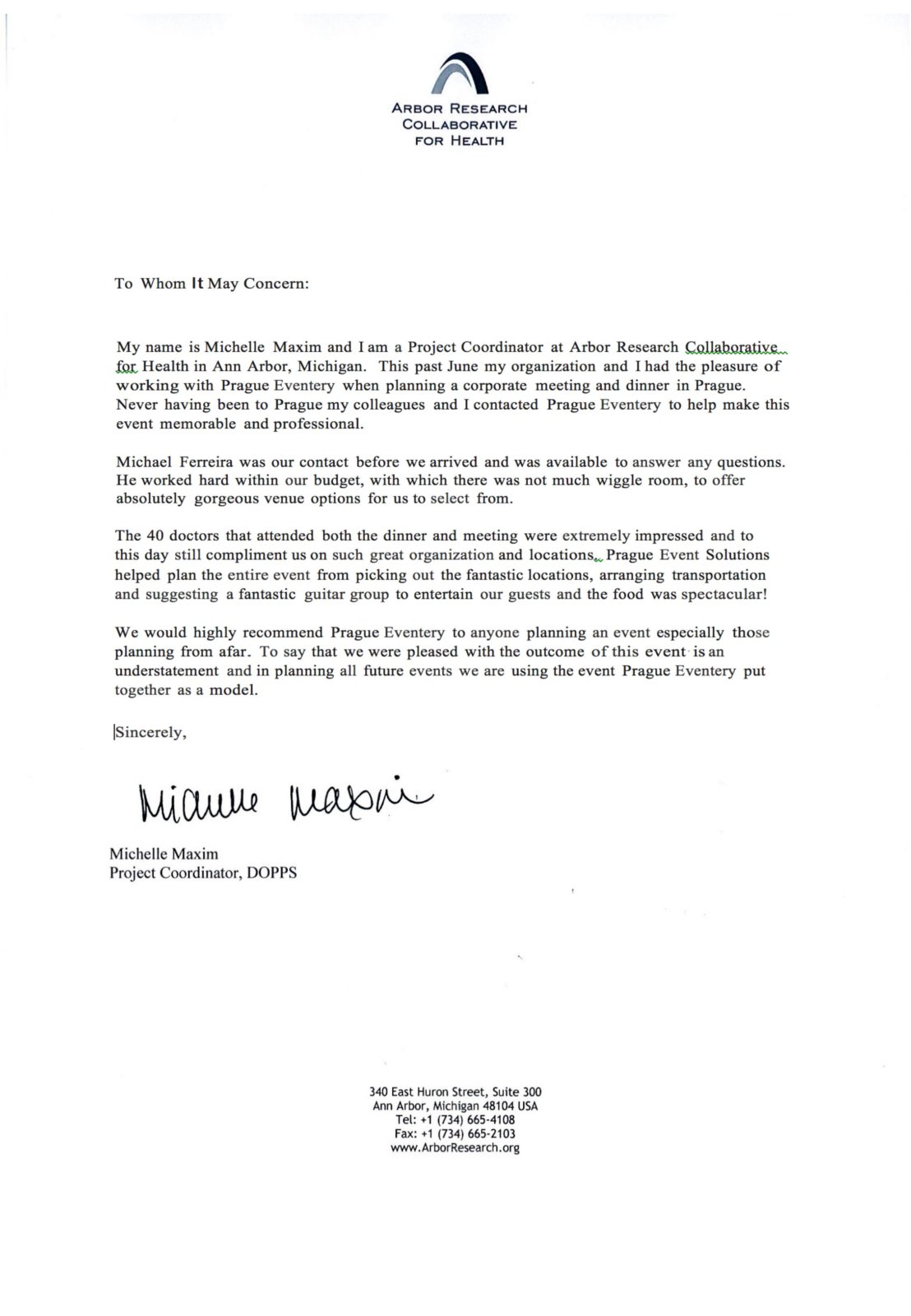 Arbor Research
Thank you very much for the warm welcome and amazing experience you provided. The product your team delivered was far beyond anyone's expectations, and the attention to detail and creative surprises were fantastic. lt is always great to work with professionals who listen and respond immediately, and deliver what they say they will even with the last minute changes we required. The several events which we have coordinated with you have all been on a large and grand scale, and each success better than the last. We look forward to a continued cooperation with you for both our annual meetings, as well as our regional events.
[+]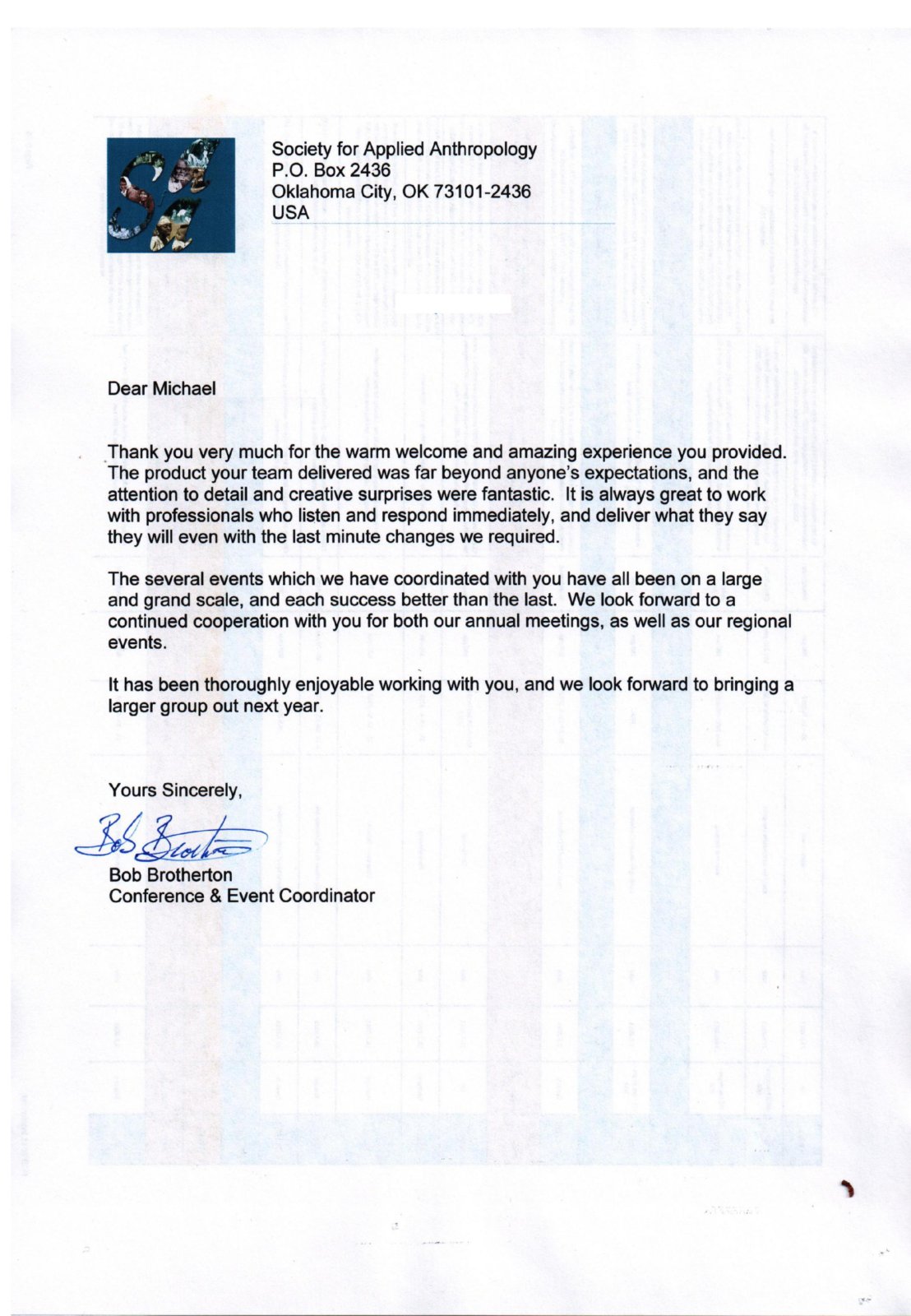 Bob Brotherton
Conference & Event Coordinator / Society for Advanced Anthropology
We have been working with Michael for the past six years in our capacity as a global not-for-profit conference, research and publishing network. We run approximately 70 events and projects a year across the UK, Central and Eastern Europe, North America and Australia. Michael brings a supremely professional approach to everything he does with us; his research skills are meticulous and his attention to detail rigorous and methodical. He possesses excellent depth of knowledge in relation to venues, hotels, organisations and networks...
[+]
Dr. Rob Fisher
Network Founder and Director / Inter-Disciplinary.Net
We started organizing the hotel on our own but are extremely grateful that we contacted you prior to finalizing details as dealing direct with the hotels grew to become quite complex, and the alternatives and support that your team provided allowed us to focus on our participants rather than the logistics. The options and services that you had proposed, and the realization of an intricate program, was without par, the very best our staff has encountered anywhere...
[+]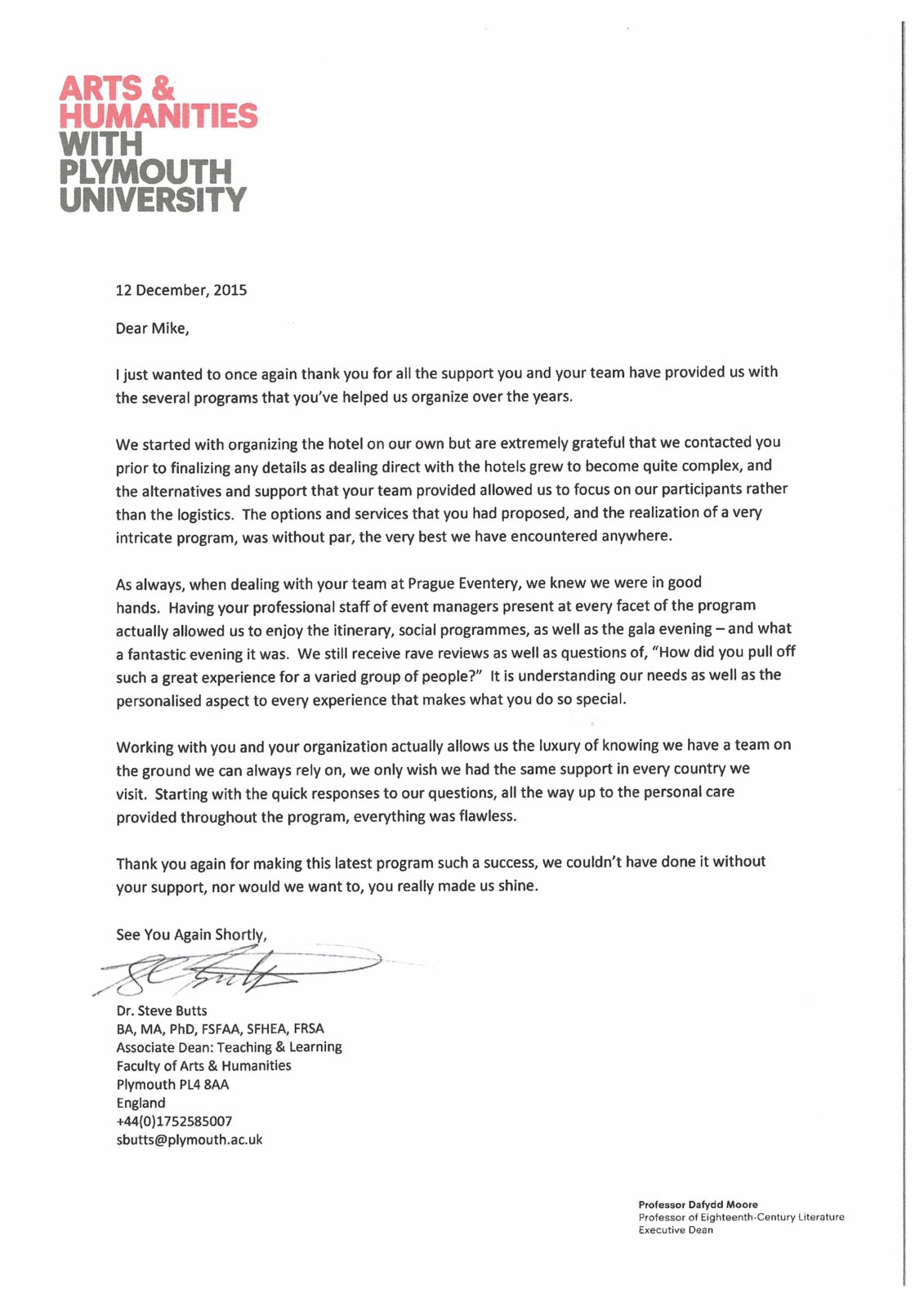 Dr. Steve Butts
Associate Dean / University Of Plymouth
I would like to again express my sincerest thank you for the amazing experience that you have given my team. This is the first, large International Congress that we have planned in Europe and I can assure you that, after this event, this will not be the last.Thank you and the rest of your team so much for everything. It has been a true pleasure working with you and look forward to working with you again next year...
[+]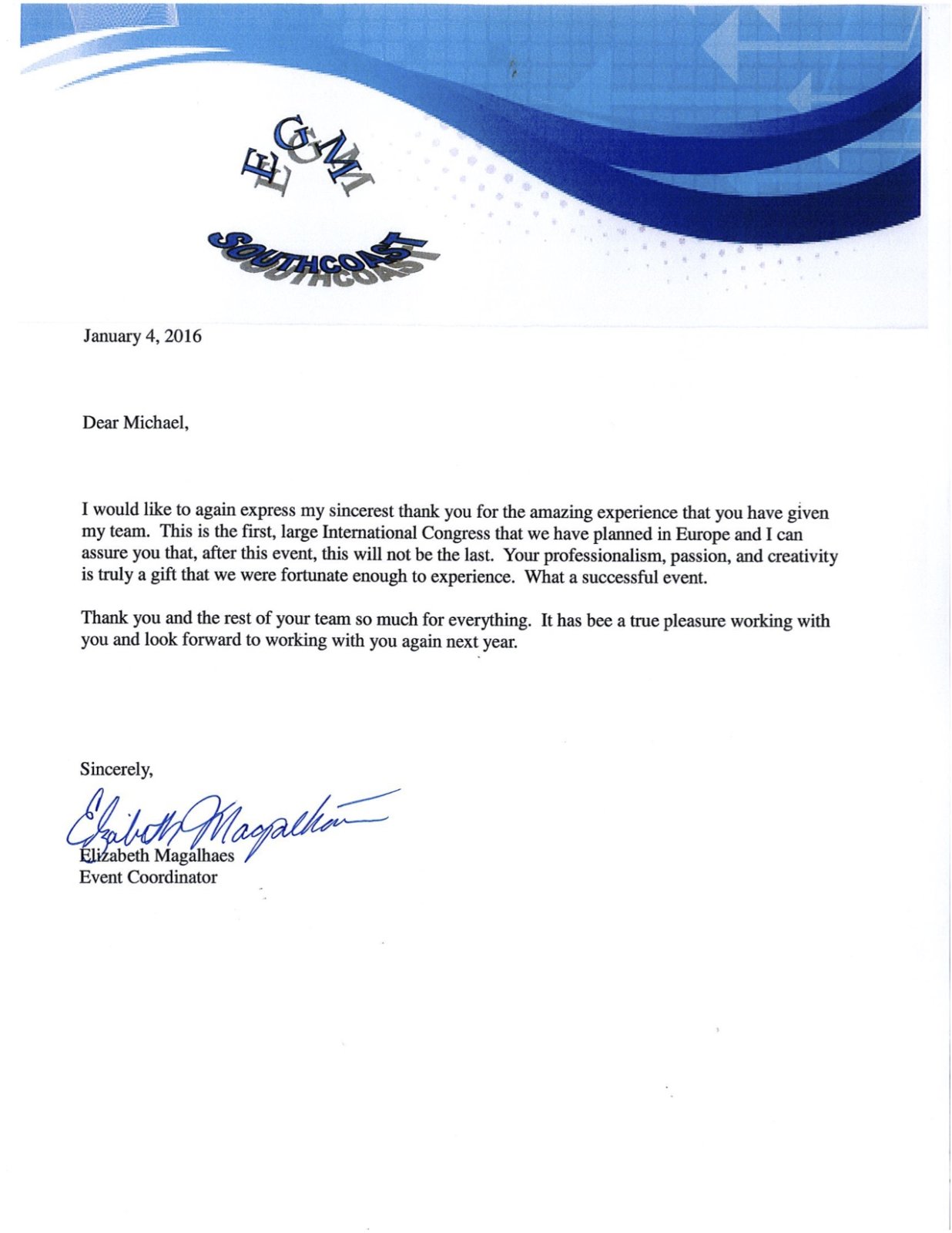 Elizabeth Magalhaes
Corporate Event Coordinator / EGM Southcoast
Time certainly flies when you are having fun and that is exactly how I feel when I work with PE. It's fun with no worries. I know that my clients will enjoy a first class experience from the time they arrive to the day they depart. Your hard work and extraordinary attention to detail make me look like a hero in the eyes of my client. You are truly a extension of 3D Partners and I refer to you as "My Team" in Prague...
[+]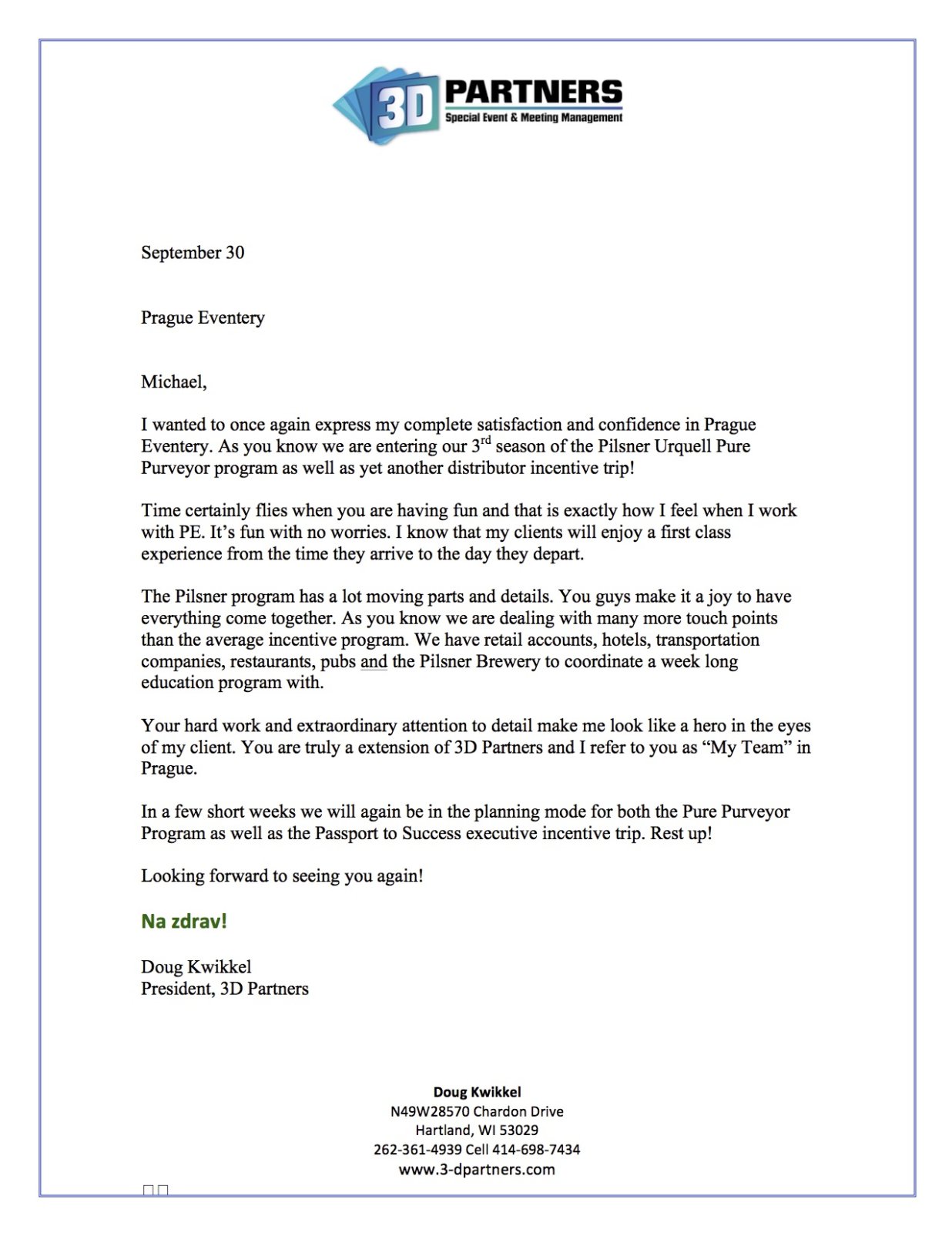 3D Partners