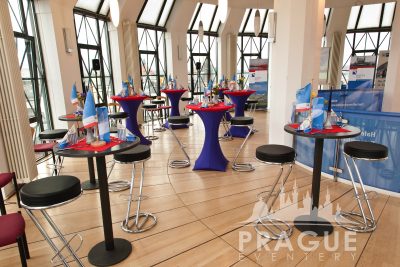 Introduction
In the modern business landscape, the location of corporate meetings can play a pivotal role in their success. Prague, a city steeped in history and pulsating with vibrant energy, has established itself as a premier destination for such gatherings. Here are ten compelling reasons that spotlight why Prague should be at the top of your list for hosting enriching and engaging corporate meetings:
1. Rich Historical Backdrop
Prague, often referred to as the "City of a Hundred Spires," offers a perfect blend of historical charm and contemporary elegance. The city's rich history is mirrored in its architectural grandeur, providing a captivating backdrop for corporate meetings. The juxtaposition of historical and modern elements fosters an atmosphere of inspiration and innovation, catalyzing fruitful discussions and forward-thinking strategies.
2. Central European Hub
Situated in the heart of Central Europe, Prague stands as a nexus connecting various prominent European cities. Its strategic location facilitates easy and convenient access for delegates arriving from different parts of Europe, making it a logistical dream for multinational corporate gatherings. Moreover, the Václav Havel Airport Prague serves as a modern gateway, offering excellent connectivity to the rest of the world.
3. World-Class Venues
Prague boasts an extensive range of venues that cater to diverse preferences and requirements. From contemporary conference facilities equipped with cutting-edge technology to historic venues offering a dose of grandeur and sophistication, the city has an option for every corporate event format. Whether you prefer a grand castle, a modern auditorium, or a riverside venue, Prague promises a unique and unforgettable experience.
4. Culinary Excellence
The city is a haven for culinary enthusiasts, offering a delightful amalgamation of traditional Czech cuisine and international gourmet experiences. Hosting your corporate meeting in Prague allows attendees to indulge in a gastronomic adventure, sampling delicacies that range from hearty stews to modern interpretations of classic Czech dishes. Furthermore, the city's vibrant dining scene is complemented by a plethora of breweries and wine cellars, promising a delightful culinary experience.
5. Professional Event Management with Prague Eventery
Entrusting your event with established DMCs like Prague Eventery guarantees a seamless and innovative event management experience. From meticulous planning to execution, Prague Eventery specializes in crafting corporate meetings that resonate with excellence, professionalism, and a touch of personalization. Their experienced team ensures that every detail, no matter how small, is catered to, promising an event that surpasses expectations.
6. Cultural Immersion
Prague's rich cultural tapestry offers attendees an opportunity for immersive experiences beyond the conference room. The city's vibrant arts scene, characterized by classical music concerts, art galleries, and theatrical performances, can be woven into the event itinerary, providing a refreshing and enriching break from business discussions.
7. Green Meetings
As the global business community shifts towards sustainability, Prague has positioned itself at the forefront of this movement, offering numerous venues that adhere to high environmental standards. Hosting your corporate meetings in Prague allows you to align with global sustainability efforts, contributing to a greener and more responsible business environment.
8. Excellent Public Transportation
Prague's public transportation network is heralded for its efficiency and convenience. The city's robust network of trams, buses, and metros facilitates easy and quick movement between venues, hotels, and cultural attractions, ensuring a hassle-free experience for attendees.
9. Dynamic Networking Opportunities
The city's dynamic business environment is a melting pot of professionals from diverse sectors and industries. Hosting corporate meetings in Prague provides a golden opportunity to foster collaborations and partnerships that transcend geographical borders, encouraging the exchange of ideas and innovation on a global scale.
10. Scenic Beauty
Nestled along the banks of the Vltava River and characterized by breathtaking landscapes, Prague provides a serene and inspiring setting for corporate meetings. The city's picturesque vistas, verdant parks, and iconic landmarks serve as a source of inspiration, fueling creativity and fostering innovative discussions.
Conclusion
Choosing Prague for your next corporate meeting promises not just a successful and productive event, but a holistic experience that beautifully marries business with pleasure, innovation with tradition, and professionalism with cultural richness. Set amidst picturesque landscapes and imbued with a rich heritage, Prague invites you to craft corporate narratives that resonate globally and create lasting memories. Step into a world where business meets beauty, only in Prague.