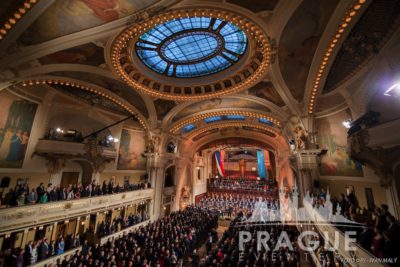 Host events that resonate with grandeur, history, and modern elegance. Renowned for its picturesque locales and world-class amenities, Prague has emerged as a favorite destination for events that leave a lasting impression. If you are envisioning an event in 2024 that stands out in terms of aesthetics and experience, Prague Eventery is here to guide you to the perfect venue. Here, we unveil the top 10 beautiful venues in Prague that promise a majestic backdrop to your upcoming events.
1. Prague Castle: A Regal Affair
Historical grandeur meets modern elegance at Prague Castle, a venue that promises to add a royal touch to your event. The sprawling gardens and magnificent halls offer a setting that is both grand and serene, making it a top choice for both corporate and celebratory events.
2. Zofin Palace: Where Elegance Meets Nature
Located on a tranquil island on the Vltava river, Zofin Palace embodies grace and sophistication. With its grand halls adorned with artistic frescoes and crystal chandeliers, it provides a stunning backdrop for glamorous events surrounded by natural beauty.
3. Municipal House: A Glimpse into Art Nouveau
Step into a world of historical luxury at the Municipal House. A prime example of Art Nouveau architecture, it offers a luxurious space with intricate details, making it an ideal locale for events that seek a blend of history and luxury.
4. Vrtbovska Garden: An Outdoor Paradise
For events that blend romance with tranquility, the Vrtbovska Garden stands as a perfect choice. Its Baroque terraces, adorned with ornamental statues and vibrant flower beds, offer a breathtaking outdoor setting for weddings and corporate retreats.
5. Dancing House: A Contemporary Icon
Infuse a modern touch to your event at the Dancing House, a venue that promises a blend of contemporary style and panoramic city views. Ideal for chic cocktail parties and corporate gatherings, it offers a space where modernity meets sophistication.
6. Lobkowicz Palace: Experience Royalty
Set within the Prague Castle complex, Lobkowicz Palace offers an exclusive setting for events that aspire for a royal touch. With its historic halls and panoramic terraces, it promises a venue that resonates with history and elegance.
7. MeetFactory: A Haven for Art Aficionados
For an event that stands out in terms of creativity and artistic flair, MeetFactory provides an ideal setting. This contemporary art venue offers a dynamic space that can transform into a creative hub for art exhibitions, workshops, and corporate events.
8. Pachtuv Palace: A Touch of Luxury
Experience luxury at its best at the Pachtuv Palace, a venue that embodies elegance and sophistication. Its historic architecture and luxurious interiors provide a stunning setting for events that seek a touch of grandeur.
9. Kampa Park: Riverside Elegance
For an event that blends natural beauty with urban charm, Kampa Park stands as a perfect choice. Situated by the Vltava river, it offers lush gardens and beautiful vistas, making it an ideal locale for outdoor weddings and corporate picnics.
10. Rudolfinum: A Symphony of Class
Add a touch of class to your event at the Rudolfinum, a venue renowned for its neorenaissance architecture and home to the Czech Philharmonic. Whether it's a corporate conference or a grand wedding, it promises a setting that echoes with elegance and sophistication.
Your Perfect 2024 Event Awaits in Prague
As you plan for the remarkable year ahead, Prague Eventery stands ready to assist you in crafting events that resonate with excellence and innovation. Whether it's finding the perfect venue or crafting a unique event experience, we are here to ensure your 2024 event in Prague not only meets but exceeds expectations.
Let's create memories that stand the test of time, together in the heart of Europe, only with Prague Eventery.